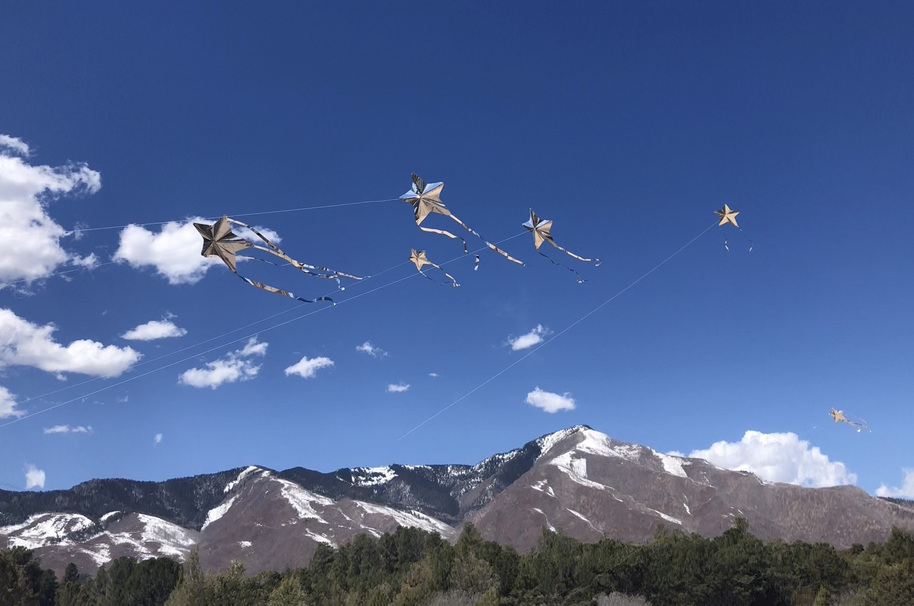 Concept rendering for 'Sun Seeds'
---
Sun Seeds

TBC 2022

Community art project and performance with 100 mirror kites.
Taos, New Mexico


Sun Seeds

is a community project that celebrates the forces of nature that shape our environment and sustain life.





For this project I will work with children within the community of Taos to collectively create many small, silver, light-catching kites. Once the kites have been created we would come together at a site within the surrounding desert landscape of New Mexico to fly them. The kites will catch and reflect the sun back to earth, appearing as though the stars had suddenly come out in the day. The kites are like seeds in that they depend on the light of the sun and the power of the wind to come 'alive'. Each individual kite flier holds a string tethered their

Sun Seed

to the earth and is responsible for taking care of it. The collectivity of all of the kite-flyers together creates the possibility of a whole chimering spectacle of light.





This work for me is motivated by a need to find joyous ways to introduce young people to ways of experiencing themselves as participants within the environment. The next generation are heavily burdened with the responsibility of making reparations to the anthropogenic damage that has been inflicted on the earth and its atmosphere by several hundred years of industrial processes. As an artist I feel it is my duty to offer them ways to relate to the environment as collaborators within a network of animated forces. More than ever children need to witness the magic and joy of the land, so that they may become courageous custodians of it. The seed is an image of hope and potential, it is the beginning of a journey, and offers the possibility of regeneration.