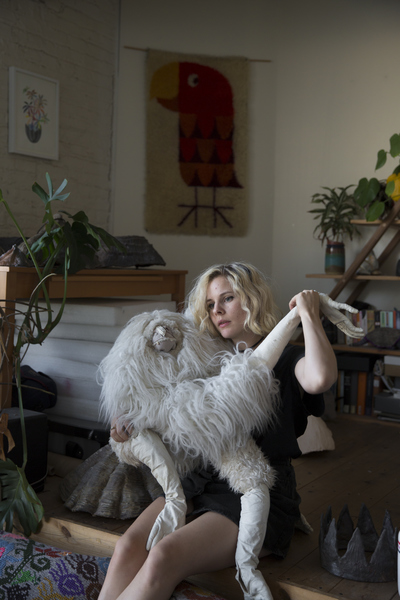 Jemila MacEwan in her studio. Image credit: Katharina Poblanki

Jemila MacEwan, is an interdisciplinary artist living and working in New York. MacEwan was born in Scotland to Sufi parents, and immigrated to Australia as a child, where her upbringing intertwined scientific, mythological and spiritual ways of learning from the land. She continues to draw connections between people and place; material and culture; spirituality and experience. As a multidisciplinary artist, she works predominantly with performance and sculpture, the two often interdependent. Using materials in their basic form, such as grass, paper, clay, earth and leather, she creates sculptural costumes that enact situations of vulnerability between herself and her immediate environment. Responding to specific cultural conditions, MacEwan describes these sculpture-based performance works as expressions of her own spiritual experience. She considers the spiritual experience as a poetic bridge between realms of culture and nature, revealing a reconciliation of the two.
MacEwan received a Master of Contemporary Art at the University of Melbourne, Australia. She has exhibited extensively within Australia and the USA and is a consistent collaborator with members of the New York Dance community. MacEwan is a current BRIC media arts fellow. Significant exhibitions include The Australian Consulate-General (NYC), Pioneer Works (NYC), Victori +MO (NYC), The Elizabeth Foundation for the Arts (NYC), Governor's Island Art Fair (NYC), The Melbourne International Arts Festival (Australia), Gertrude Street Projection Festival (Australia), and Arquetopia (Mexico). MacEwan received a two-year mentorship under internationally renown artist Janine Antoni and is a current mentee of Jamaican performance artist Jodie Lynn-Kee-Chow as part of the NYFA Immigrant Artist Mentorship Program. She has participated in many residencies including Flux Factory (NYC), ChaNorth (Chashama, NY), Salem Art Works (NY), Paul Artspace (MO), Arquetopia (Mexico), This Will Take Time (CA) and has upcoming residencies in Iceland at Fish Factory and Skaftfell. She has been the recipient of multiple awards including the Alchera Award, Acacia Award, Alliance Francaise Award, George Hicks Award. She has been generously supported by the Australia Council for the Arts, the Dame Joan Sutherland Fund, the Ian Potter Cultural Council and the Graduate Women of Victoria.